UNC Tar Heels men's Basketball Schedule
UNC Tar Heels Basketball Schedule 2013 – 14
 W2-1L
Monthly | Oct | Nov | Dec | Jan | Feb | Mar | Schedule
Date
Opponent
Location
TV/Time/Result

10/25/13

Late Night with Roy Williams

Dean E. Smith Center,Chapel Hill, NC

Fri

11/01/13

UNC Pembroke (Exhibition)

Dean E. Smith Center,Chapel Hill, NC
Go Heels TV, Fri                      82-63

11/08/13

vs. Oakland

Dean E. Smith Center,Chapel Hill, NC
Fri                                       84-61

11/15/13

Basketball Hall of Fame Tip-Off Tournament:

 vs. Holy Cross
Dean E. Smith Center,Chapel Hill, NC
ESPN U, Fri                        

62-54

11/17/13

Basketball Hall of Fame Tip-Off Tournament: 

vs. Belmont

Dean E. Smith Center,Chapel Hill, NC
ESPN U,Sun. 4PM                  

80-83

11/23/13

Basketball Hall of Fame Tip-Off Tournament:

 

vs. Richmond

Mohegan Sun Arena – CT
ESPN3 Sat 12:00PM                

View Tickets

11/24/13

Basketball Hall of Fame Tip-Off Tournament:

 vs. Louisville

Mohegan Sun Arena – CT
Sun 1:00PM                         

View Tickets

12/01/13

vs.

 @ UAB

at Birmingham, Ala.

Sun

12/04/13

ACC/Big Ten Challenge: vs. @

Michigan State

at East Lansing, Mich.

ESPN Wed 9:00PM

12/07/13

vs.

UNC Greensboro

Dean E. Smith Center,Chapel Hill, NC
ESPN U, Sat 7PM                 

View Tickets

12/14/13

vs.

Kentucky

Dean E. Smith Center,Chapel Hill, NC
ESPN, Sat 5:15PM               

View Tickets

12/18/13

vs.

Texas

Dean E. Smith Center,Chapel Hill, NC
ESPN 2, Wed 7PM               

View Tickets

12/21/13

vs.

Davidson

Dean E. Smith Center,Chapel Hill, NC
ESPN U, Sat 5PM                 

View Tickets

12/27/13

vs.

Northe

rn Kentucky

Dean E. Smith Center,Chapel Hill, NC
ESPN U, Fri 7PM                   

View Tickets

12/31/13

vs. UNC Wilmington
Dean E. Smith Center,Chapel Hill, NC
ESPN U, Tue                       

View Tickets

1/05/14

vs. @ Wake Forest

at Winston-Salem, N.C.

ESPN U, Sun 8PM

1/08/14

vs. Miami

Dean E. Smith Center,Chapel Hill, NC
ESPN 2, Wed 9PM               

View Tickets

1/11/14

vs. @ Syracuse

Carrier Dome,Syracuse, NY 
ESPN, Sat 12PM                   

View Tickets

1/18/14

vs. Boston College

Dean E. Smith Center,Chapel Hill, NC
ESPN Sat 12PM                           

View Tickets

1/20/14

vs. @ Virginia
John Paul Jones Arena,Charlottesville, VA 
ESPN, Mon 7PM                   

View Tickets

1/26/14

vs. Clemson

Dean E. Smith Center,Chapel Hill, NC
ESPN U, Sun 6PM                   

View Tickets

1/29/14

vs. @ Georgia Tech

at Atlanta, Ga.

ESPN 2, Wed 7PM

2/1/14

vs. NC State

Dean E. Smith Center,Chapel Hill, NC
Sat 2PM                             

View Tickets

2/4/14

vs. Maryland

Dean E. Smith Center,Chapel Hill, NC
ACC Network, Tue 8PM           

View Tickets

2/08/14

vs. @ Notre Dame

Purcell Pavilion At Joyce Center,Notre Dame, IN 
ACC Network, Sat 12PM         

View Tickets

2/12/14

vs. Duke

Dean E. Smith Center,Chapel Hill, NC
ESPN/ACC, Wed 9PM             

View Tickets

2/15/14

vs. Pittsburgh

Dean E. Smith Center,Chapel Hill, NC
CBS, Sat 1PM                       

View Tickets

2/17/14

vs. @ Florida State

at Tallahassee, Fla.

ESPN, Mon 7:00 PM

2/22/14

vs. Wake Forest

Dean E. Smith Center,Chapel Hill, NC
ACC Network, Sat 12PM         

View Tickets

2/26/14

vs. @ NC State

PNC Arena (Formerly RBC Center),Raleigh, NC 
ACC Network, Wed 8PM             

View Tickets

3/01/14

vs. @ Virginia Tech

at Blacksburg, Va.

MACC Network, Sat 2:30PM 

View Tickets

3/03/14

vs. Notre Dame
Dean E. Smith Center,Chapel Hill, NC
ESPN, Mon 7:00 PM             

View Tickets

3/8/14

ESPN "College GameDay": vs. Duke

at Durham, N.C.

ESPN, Sat 9PM 

View Tickets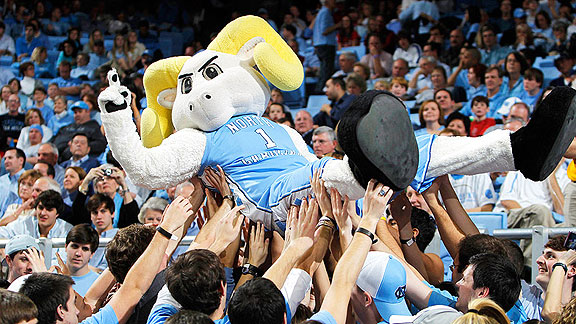 Fan Guide to UNC Tar Heels men's Basketball
There is something special about University of North Carolina (UNC) Tar Heels men's Basketball. Part of the Atlantic Coast Conference (ACC), UNC home game schedules are played at Dean Smith Center in Chapel Hill, North Carolina. The exceptional players drafted into the NBA from this North Carolina Tar Heels college benefit from one of the most successful programs in NCAA history.
A good University Tar Heels team deserves a powerful fan base, which in turn is driven by an inspired mascot. Like royalty, the UNC lamb chosen to fill the hooves of the current Rameses begins life with an ordinary name until he ascends the mascot throne. The eighteenth Rameses, who started life as Pablo, died of natural causes in early 2012. The heir, formerly known as Bam Bam, is the nineteenth ram to cheer on the UNC Tar Heels Basketball team and inspire the crowd. Out of many lambs, the future mascot is selected for its trademark twisted horns, painted blue for special events.
Roy Williams, University of North Carolina Basketball Head Coach
A native of North Carolina, Roy Williams is in his tenth season as head coach for University of North Carolina Men's Basketball and twenty-fifth year as a college head coach. His background and current achievements are impeccable. Named Coach of the Decade for 2000 – 2009 by Fox Sports, Sporting News, ESPN and Sports Illustrated, Williams is a member of the College Basketball Hall of Fame and Naismith Basketball Hall of Fame.
Under his coaching, the NC Tar Heels mens basketball won a national championship in 2005 and 2009. There have been three Elite Eight appearances, with the latest one in 2012, and a Final Four appearance in 2008. Six regular season ACC titles and two ACC Tournament crowns are further achievements. In addition, UNC Tar Heels Coach Williams developed 13 first-round NBA draft picks with more players being trained for the pros.
His years of coaching basketball at the University of Kansas Jayhawks and UNC Tar Heels men's basketball totaled a record of 675 – 169 before the start of the 2012 season. His winning percentage (.800) makes Williams number 1 among active coaches and the fourth highest in college basketball history.
2012 University of North Carolina Tar Heels Basketball Schedule
The UNC basketball season is off to an exciting start, with more wins than losses. Expect spectacular play as the University of North Carolina Tar Heels mens basketball team hosts UNLV on Dec 29. The following week will find them in Charlottesville VA to play Virginia on Jan 6, 2013. Expect the unexpected in games against Miami, Maryland, and Georgia Tech at the Dean Smith Center in January. Reserve your tickets early to watch the home team conquer Wake Forest on Feb 5, Florida State Mar 3 and Duke on Mar 9.
Players and Performance
Sean May (2005) and Tyler Hansbrough (2008) earned National Player of the Year. Hansbrough's other achievements include:
UNC Tar Heels men's Basketball all-time rebounder.
NCAA record for free throws made.
All-time ACC scoring mark.
First player in league history earning first-team All-America and All-ACC honors in each of his four seasons.
In 2012, Kendall Marshall received the Bob Cousy Award for best point guard in the country, while Tyler Zeller was selected as ACC Player of the Year.
Power forward James Michael McAdoo committed to UNC Tar Heels men basketball in 2009 and is the player to watch. ESPNU 100 rated him the number 5 player of the class of 2011. With a trip to the Elite Eight under his belt, he is taking a more forceful role on this year's team. Updated schedules and news visit UNC Basketball Schedule.net
University NC Mens Have Made Records In The History Of College Basketball
University of North Carolina Basketball is very famous, and UNC mens play the best when it comes to basketball. It is an inter-collegiate basketball team for men, and it is considered to be one of the most successful programs. Duke and UNC Tar Heels are the most renowned teams in the entire college tournament, and each of these teams has their stories of success. Recently, both the teams have lost quite a good number of players, but it is expected that University of North Carolina will prove to be better in the coming tournament. In fact, this year UNC Tar Heels men's basketball is a better team, and it is expected that they will prove to be better than the Duke this year.
The Teams:
The UNC Tar Heels mens Basketball are the best teams in the entire tournament, and they have already made a record by winning five times. Though the Duke has also made major wins, yet history says that the Tar Heels men's team is the best. They won their first national championship in 1957 under the leadership of Frank McGuire. Since then, they hardly turned back. Players have been changed now and then, but irrespective of that, the team continues to live in its fullest spirit.
UNC Tar Heels Reputed Players And Coaches:
As the University of North Carolina Tar Heels men's basketball is famous and contains a long history, in a similar manner, there are various reputed players and coaches that deserve mention in this context. In fact, these players and coaches have also achieved national awards in different years in terms of their performance. Some of the reputed players include Jack Cobb, Lennie Rosenblith, George Glamack, Michael Jordan, Tyler Hansbrough, and even James Worthy. On the other hand, some of the reputed coaches include Dean Smoth, Matt Doherty, Frank McGuire, Roy Williams, Matt Doherty, Bill Guthridge etc.  There are, in fact, many more names to mention under University of NC Tar Heels mens basketball schedule, and they will always be remembered in the history of basketball of UNC.
The Availability Of UNC Tickets:
The interested people can easily watch the basketball tournament online, or if they want, they can also get University of North Carolina men's Basketball tickets at the online sites. The availability of the tickets is not a problem, and there are large numbers of people that buy these tickets for watching the basketball tournament. Therefore, if you want, you can also buy these tickets and start watching it. There are also some sites that give special offer on the tickets. The UNC Tar Heels men's Basketball have several notable streaks in the college basketball history.